The first day at camp is an exciting one! Whether your camper has been to camp before or it's their first time, there are plenty of emotions and nerves that campers can feel when they get to camp. We do our best to get campers into the swing of camp as quickly as possible!
Check In Day
Mondays 1:30-3pm
If you are driving to camp, here's what you can expect.
You will be met by a staff member when you pull up to our property and be directed into our upper meadow or lower meadow.
From there you will be met by member of our leadership team and a nurse who will get your camper checked in.
Please have any medication ready to drop off in its original packaging, it will be collected by our nurses at that point.
You will be directed to drive to your camper's unit. We will have staff available to help unload baggage and take it to your camper's tent in the unit.
We're asking families to stay with their vehicles for drop off to do our best to reduce the exposure at camp. We understand that you will want to get out to stretch your legs, unload luggage and give a hug to your camper! Please do, but we'll ask families to keep it to that and won't be allowing anyone to walk around the property this year (but we will for pick up on check out day!)
If you need to use a bathroom, we'll have you park in an area where you can do so easily after you have said goodbye to your camper. We understand that this is a different way of dropping your camper off at camp, but it has become as  and really thank you for understanding our intentions for structuring it this way.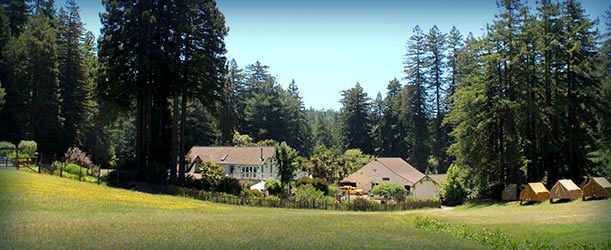 Check Out Day
Saturdays 10:30am to 12pm
Our check out days will be pretty simple! We release campers down from our dining patio at 10:30, just after singing a mornings worth of songs. We ask that you don't show up earlier than that so that we can give campers time to have their final goodbyes.
We'll have staff and campers ready in their units with all of their belongs ready to load up. It will be a very similar process to drop off where we will direct you back to your camper's unit, but you are welcome to take a tour around camp with your camper. We ask that you park out of the way of the camper pick up loop and that while touring the farm you don't enter any animal pens or enclosures.