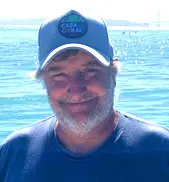 Chris Camp Director
Chris has been an educator in the Bay Area for over twenty years and has worked in the classroom as teacher, coach, outdoor education facilitator, and international trip coordinator. He and his family have a special connection to Farm Camp and the Ranch community. Chris sums up his connection to the camp this way, "There are few places that feel more like home to me than Farm Camp. The camp and its mission are very much in line with my own philosophy. So much of what I do as a teacher and a parent is filtered through the lens of Farm Camp.
Caroline Administrative Director
Caroline was born and raised in Maryland, and currently lives in the windiest of cities, Chicago IL. She graduated from the University of Chicago in 2020 and feels proud to now call the Midwest her home. As a kid, she spent her summers attending Mountain Camp, one of Farm Camp's partner programs. Camp has always played a transformative role in her life, and her passion to work at camp has blossomed from a desire to help make these influential experiences possible for future campers. In 2019, Caroline spent her summer working at Mountain Camp Woodside, and camp has continued to draw her back ever since. She joined the Farm Camp team in 2021, and she is so grateful to be a part of such a kind and compassionate camp community. While braving blustery winter weather for most of the year, she looks forward to spending her summers in a place as sunny and verdant as Farm Camp.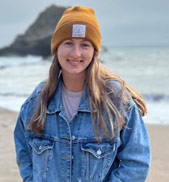 Jenny Director
Jenny grew up in the Northeastern US and learned to love all things outdoors. After traveling around the United States working on farms she found Farm Camp in the summer of 2018. It quickly became her favorite place in the world. Jenny is passionate about helping kids learn about nature and finding their place among the beauty around us. She loves being a part of this wonderful intentional community sharing knowledge, nature and the love of all things Farm Camp.
Dara  Director
Dara grew up in the beautiful state of Colorado, appreciating the importance of getting outdoors. She loves hiking, camping, crafting but often you will find her nose buried in a good book! Dara has worked with the special needs population for almost 10 years now. She has worked in respite, recreational day programs and in schools. Dara is currently a Registered Behaviour Therapist, working with children with ASD and behaviour disorders. She has travelled all around Europe, SouthEast Asia and got the opportunity to live in Canada for two years. But she finds the place she always loves to adventure back to is Farm Camp. Farm camp will always hold a special place in her heart. She met her husband here! Dara is thrilled to be part of the leadership team as a Director at Farm Camp and have the opportunity to share this wonderful place. Dara is passionate to help create a space for your kids to thrive and grow, being at Farm camp for the past 6 years, she knows this is the place to do just that!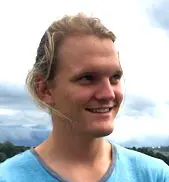 Luke Summer Director
Luke grew up in Lawrence, Kansas, where he enjoyed exploring the local wetlands and always searching for wildlife. Since finishing his degree at St. Olaf College in Minnesota, he has lived all over the country, working on farms, teaching outdoor education, and coming back to Farm Camp every summer. His favorite part of the day at camp is usually morning singing, but he also loves gulch hikes, hatchet throwing, and playing ping pong. He is excited to play a part in continuing the wonderful community at Farm Camp!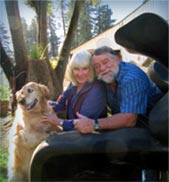 Suzanne and David Brown
David and Suzanne Brown met at camp when they were 8 years old. After many years as campers under founders Abe and Eve Crittenden, they returned as counselors. In 1971, they celebrated their wedding at the far side of the First Lake after being engaged for 11 days! David graduated from Pomona College and received a Phd in Animal Science from Washington State University. Suzanne graduated from U.C. Berkeley with her Secondary Teaching Credential. After living in Mount Baldy, Washington state and Colorado, they returned to the camp in 1984 and settled in to raise their son Evan and twin daughters Emily and Elizabeth. In 1985 they welcomed their first of batch campers. They strove to continue Abe and Eve's original philosophy of a diverse community, living, learning and working together in a farm based environment. After 19 successful seasons, they retired as camp directors and began spending summers exploring in the Northwest and Alaska; traveling, boating, fishing, snorkeling and diving with friends and family. They continue to make the farm their home in the off season. David enjoys running the ranch, Suzanne's love of local history has come together in the extensive restoration of Druid's Hall, and they are looking forward to many more years as stewards of the Ranch.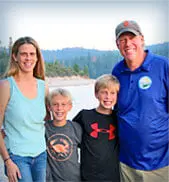 Scott Whipple
Scott has been friends with Suzanne and David Brown for many years and is excited to now be involved with Farm Camp. Scott is a graduate of Baylor University and has served as the Western Association of Independent Camps Vice-President and President of the Northern California Section. Additionally, he is an American Camping Association accredited Camp Director. During his free time, Scott enjoys time with his wife and two children, in a variety of activities including basketball, hiking, paddle boarding, and biking. Scott is committed to continuing the philosophy and values of Farm Camp.
Don Whipple
Don is very excited to be a part of the Farm Camp family and looks forward to helping continue the wonderful traditions established over the years. Don has been in camping since 1993 and now oversees all year-round operations for both Mountain Camp and Mountain Camp Woodside. Don is currently serving on the Board of Global Camps Africa and is a past member on the National Board of Directors for the American Camp Association and is a past President of the Western Association of Independent Camps. When not working on camp, Don and his family enjoy spending time outdoors exploring the beautiful Bay Area.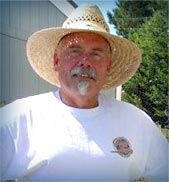 Ken Swindt
Ken started working at the farm in the late 1980's doing simple repairs about the Ranch. In 2008, Ken retired from the Santa Rosa Fire Dept. after 32 years and has since been working on the farm and takes pride in his role at Farm Camp: construction, preservation, and facility maintenance. Ken leads the wood shop activities for Farm Camp and assists with farm day projects and enjoys working at a place that has a long history and teaches people about the outdoors and farming.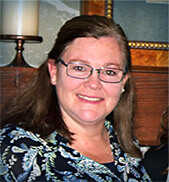 Nell Western
Nell first came to Farm Camp at age 9 when Dave and Ginny Crittenden were directing camp. Her siblings had been campers under Abe and Eve Crittenden. Nell has worked at the camp as a counselor, program coordinator and camp office manager for many years. Nell is a graduate of UCLA and currently lives in Petaluma with her husband and two children, who are both past campers. Nell's favorite things are cooking, gardening, hiking, the beach, all things horse, family and friends.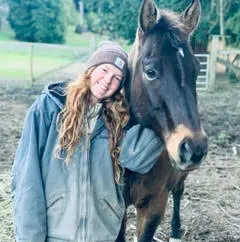 Paulina
Paulina grew up in Arlington, Texas, and now lives in beautiful Sonoma County  at Farm Camp year round with her husband, Rory, dog, Willow, and horse, Star. She is the Ranch Manager for the Brown family and takes care of the animals and property all year long. Paulina also is the Horse Program Director and heads off all horse back riding activities all summer long in addition to managing the herd year round. Paulina first came to Farm Camp as a counselor in 2015 and has returned every summer taking on more leadership roles every season. Paulina was hired by the Brown family to take over the full time position in 2018 and has been here ever since. Paulina grew up riding horses and could not be happier to live and care for the equine herd here. Paulina loves teaching kids to ride and cant wait to get back on the trail this summer! Paulina's other great loves after horses and farm animals is cooking, baking, and playing guitar. You can find her whipping up her famous apple pies, cooking dinner for friends and family, or playing some late night guitar.