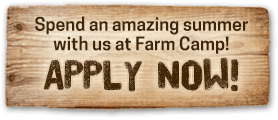 Thank you for your interest in becoming a member of the Farm Camp staff. Our online application is available and we conduct interviews with applicants from November through May each hiring season. You can expect to hear back from us within two weeks of submitting an application. Apply HERE!
Positions are available for experienced, responsible and enthusiastic young leaders who would be interested in devoting their summer to working with children in a positive, outdoor environment. Below are descriptions of the positions we have at camp. Depending on the hiring process, these positions may or may not be open. The titles below are the "positions" that you will need to choose when you complete the online application.
Positions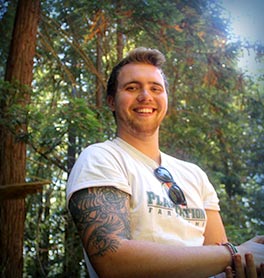 New Counselor: If you have never worked at Farm Camp before, this is for you! Unit counselors are responsible for the care and supervision of the campers in all aspects of the program. Depending on the period of the day, they lead their unit group, lead activity or chore groups, supervise general areas of camp, or execute special parts of the program. They build positive relationships with campers and serve as role models and authority figures.
Returning Counselor: If you have worked at Farm Camp before, this is for you! Returning Counselors have the same job description as new counselors, but also serve as mentors to first time staff, and have the opportunity to apply for more responsibility by adding a Coordinator role to their job description.
Kitchen Staff: Our kitchen staff are the culinary masterminds behind our delicious, from scratch, farm fresh meals. Meals are sourced from our farm; meat is grown on our site and much of our produce comes straight from our garden. Our kitchen staff collaborate to prep and cook meals in our industrialized kitchen, and work as a unit to wash cookware and keep the kitchen domain clean and sanitary.
Healthcare Staff: The health and safety of our campers and staff is a top priority and we hire two healthcare professionals (MD's, RN's, or EMT's) each summer to care for and manage the wellness of our camp and staff community. Duties include updating and organizing camper and staff health records, giving medications and supplements, and providing care though our days at camp. Our healthcare team participates in our program in the same way everyone else does, sharing meals and jumping into activities!
Head Counselor: (Must be a returning counselor) The Head Counselors are the primary support system for unit counselors, and are responsible for providing supervision, guidance, structure, and support as needed. They are the primary contact for counselors concerning issues with campers/unit, coworker dynamics, or personal needs. They generally oversee their respective sides of camp, and ensure that counselors are able to excel at their jobs. Head counselors communicate with Directors regarding issues with counselors and campers.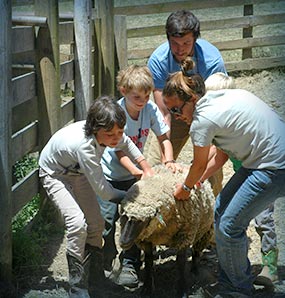 Coordinators & Specialists: Coordinator responsibilities are in addition to unit counselor duties and are most often filled by returning counselors. Outside of their coordinating role they spend the rest of their time doing the same tasks as unit counselors. Specialists spend the majority of their time within their specialized responsibility at camp and do not live in a unit with campers.  Please read the descriptions below for more information on each specific position.
Horseback Specialist – Work with horse program director to structure horseback activities, lead horse chore, and work with ranch staff to feed, care for, and move horses.
Office Specialist – Working a portion of each day in the camp office doing a variety of tasks to assist directors including updating camp social media pages with current photos and information, sorting camper and staff mail, completing weekly camper chore and table assignments. The position also comes with many out of the office tasks including taking photos, organizing arts and crafts materials daily for each activity and keeping consistent inventory of supplies, and the opportunity to lead activities when available.
Transportation Specialist – Work with directors to coordinate the bus pick up and drop off of campers to the bay area and back on beginning and ending days of camp. This is a great responsibility, full of logistics, quick thinking, and organization! Transport coordinators spend a night in a hotel in the bay area every other week and have a few additional staff assigned to their transport team each week to help. This person is also our go to for laundry runs, medical visits, or trips to town for needed items.
Ropes Coordinators – Staff member responsible for maintaining and keeping inventory on ropes equipment, helping train ropes staff, leading ropes activities, keeping ropes records logged and current. The Ropes Coordinator will be the one setting up and taking down equipment for each activity and will be assigned to many early summer ropes activities to continue the training and supervision of staff getting comfortable with our ropes elements.
Evening Activity Coordinators – Coordinate evening activity plans on a daily basis including the all camp campfire on Mondays, the camp drama on Tuesdays, barn dance on Fridays and reflections on Saturdays. The Evening Activity Coordinator(s) use(s) a period that day to prep for the evening activity and facilitates that evening.
All counselors are responsible for being CPR and First Aid certified before they arrive at camp. Skills such as lifeguarding, horseback riding, guitar playing, arts & crafts, performing arts, and agricultural, are particularly desirable and preference is given to applicants that are available to work the entire summer.
We hire about 30% of our staff through international placement agencies, bringing in qualified instructors and counselors from all over Europe, South Africa, New Zealand, and Australia. The atmosphere created by hiring staff from around the world is unique. The practical skills as well as the cultural education the international staff provides is a wonderful addition to the overall camp experience.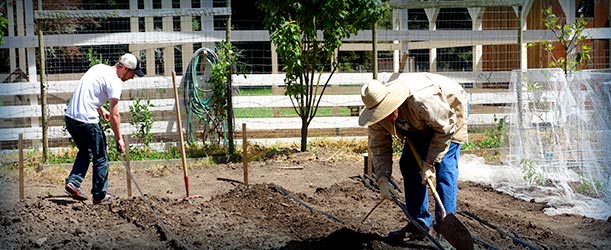 Compensation
The following is an outline of our pay scale for summer staff. The pay scale is our way of making salaries consistent for the entire staff. However, if you have unique qualifications not stated in the outline, please contact our office to discuss your situation.
| | | |
| --- | --- | --- |
| Title | Base Salary Per Week | Minimum Qualification |
| Counselor | $525 |  High school completed, at least one year of college completed or work experience |
| Kitchen Staff | $525 | High school completed, experience and interest in food systems and cooking |
| Office / Transportation Specialist | $575 | Counselor qualifications with an interest in growing organizational skills |
| Horseback Specialist | $575 | Counselor qualifications with horseback experience |
| Head Counselor | $625 | Returning staff member, strong communicator and comfortable leader |
| Nurse | $200/day | Valid CA registered nursing license |
Additions to base salary (per week) are made for the following situations:
| | |
| --- | --- |
| Title | Added per Week |
| Returning Staff (per full summer at camp) | $20.00 |
| Wilderness First Responder or EMT | $30.00 |
| Wilderness First Aid | $10.00 |
| Red Cross Lifeguard Certification | $30.00 |
| College Graduate (Bachelor's Degree) | $20.00 |
| Coordinator Addition (Ropes, CILTS, Evening Activity) applied only during sessions when applicable | $30.00 |
| Full-time head teaching experience (3 yr. max) | $20.00 |
| Activity Certification (ACA or equivalent, based on relevance. $50.00 max) | $5.00-$20.00 |
Please note:
ALL staff MUST be 1st Aid and CPR Certified before arriving at camp.
We look forward to reading your application and will contact you if you are selected for an interview. In the interim, if you should have any questions or require additional information please do not hesitate to contact contact us.