Our 30 acre property is made up of wide meadows surrounded by dense old growth redwood forests. To the west we are boarded by Salt Point State Park where we can follow miles of trails through seaside forests, prairies, and gulches. To the east our neighbors, the Tunheim and Greig families generously share their 500 acres of forests, trails, and lakes with and to allow staff and campers to explore. We're truly blessed to have such incredible neighbors who make their acreage available for us each summer.
The Farm itself is made up of barns, corrals, animal pens, and miles of fence line requiring routine upkeep throughout the year. When the spring rolls around the Ranch maintenance crew begins to shift some of their focus to camp as unit construction begins. Every tent is leveled, rebuilt, and strategically placed each year to provide comfortable living spaces for staff and campers. To read more about our tents and units, please see our Camp Living page above.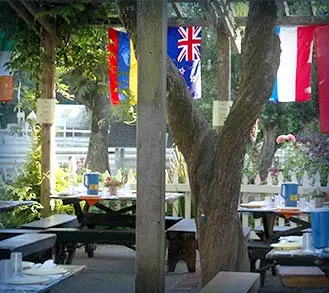 Our site is very well utilized throughout our days. Our lake and pool are popular places to be on warmer days. The lake is spring fed and stays cool all summer, while we keep the pool around 75 degrees allowing for longer swimming sessions. We use our patio space three times a day and fit all of camp efficiently in place for meals. The patio sits right next to our commercial kitchen, where food is served family style to each table right through the kitchen window. In 2015 the maintenance crew put some long hours into renovating our patio trellis, which now provides full shelter and shade throughout the day at camp.
Druids Hall is another popular place where campers like to spend their time. Also receiving a fairly recent makeover, Driuds serves as the camp museum and is full of local historical items such as Pomo arrowheads, farm tools and machinery from the past, and countless issues of old magazines and newspapers that campers love to browse. The barn is one of the staples of Farm Camp and we get together every Friday night to work on our favorite steps at the barn dance! Our barn dates back to the 1800's and has withstood the test of time to continue bringing us nights full of hootin' and hollerin' fun at camp!