The first day at camp is an exciting one! Whether your camper has been to camp before or it's their first time, there are plenty of emotions and nerves that campers can feel when they get to camp. We do our best to get campers into the swing of camp as quickly as possible!
Check In Day
Sundays 1:30pm to 3pm
If you are driving to camp, here's what you can expect. You will be met by a Director when you pull up to our property and be given parking instructions. From there you will head over to our front lawn with your camper and get in line to be checked in. When you get checked in you will be given unit assignment and be introduced to one of your unit counselors. From there you will get to meet with our camp nurse, deposit money into the camp store, and get all camper luggage moved from your car to the correct spot.
It is entirely up to you how much or little of the check in process you would like to stay for. As soon as you are checked in and your campers bags are to where they need to be, you are free to take off, but are welcome to hang around until we ring the bell to get things started at 3pm. Some campers will want to run off with the group as soon they are introduced, and others would rather hang with their parents up until the final moment.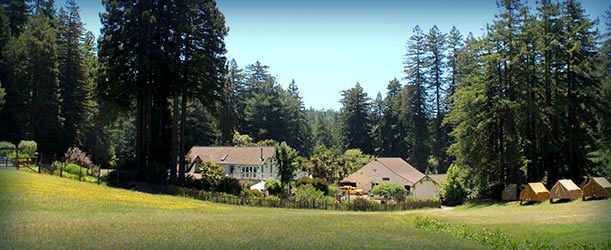 Check Out Day
Saturdays 10:30am to 12pm
If you are driving to camp, Check out days are pretty simple! We release campers down from our dining patio after singing a mornings worth of goodbye songs right at 10:30am. We ask that you don't show up any earlier than that so that we can give campers time to have their final hugs and goodbyes. We will have a table set up to sign out your camper with a director and to pick up your camper certificate from the session. Like check in day, you are welcome to stay for the entire hour and a half or you can choose to just load up luggage and head on home. Check out days are great opportunity to see the farm and for your camper to talk you through their experience and give you a tour. We just ask that you don't enter any animal pens or buildings without a staff member.
Campers that take the bus to camp will be the last to arrive for check in days, and the first to leave on check out days. A lot of campers prefer to be on the bus because it feels like camp starts as soon as they hop on!