Getting to/from Camp
We encourage staff who have vehicles to drive to camp. You can park your car in our parking lot for the duration of your time at camp, and having a car will give you greater flexibility and freedom on your time off. You can plug in the camp address in your GPS though we do advise to print them out as well as service cuts out for portions of the drive.
For staff who cannot drive to camp, including international staff, we will provide transportation from the San Francisco International Airport, and will have a shuttle available to get you from the airport to camp. All non-driving staff are welcome to utilize this shuttle. Transportation on days off is not provided by camp. Staff who do not have their own transportation are responsible for organizing rides for themselves on days off. Typically, staff organize their plans in advance of days off and carpool together into town or out on an adventure.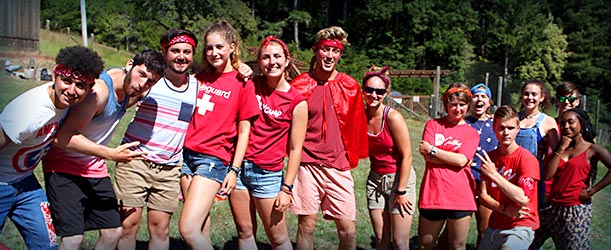 Packing
Due to our close proximity to the ocean and barrier of redwood forest, camp is relatively climate controlled. You will not have to worry about extreme wind storms or snowy weather but the temperature can certainly rise and dip to uncomfortable temperatures if not properly prepared.
The average temperature range at night is 49-60 degrees Fahrenheit (12-15 Celsius) and the average day temperature range is 70-90F (27-32 C). The day will normally start with some light to heavy fog which burns off by breakfast, followed by a warm day until about dinner when the temperature will dip back down. Though it's rare on the coast, every once in a while we can get into the 90'sF ( 32-37 C) so preparation is key to stay comfortable.
We have compiled a list of suggestions to get you started:
Clothing
6 pairs of jeans or long pants
2 sweatpants
4 pairs of shorts
2 pajamas
10 shirts or T-shirts
10 pairs of socks
10 underwear
2 swimwear/UV protection shirts or suits
1 WARM washable jacket
3 sweatshirts or sweaters
1 pairs old tennis shoes for creek wading and tide pooling
1 pair leather hardtop shoes for foot protection around horses and cows
2 pairs everyday shoes (one of which should have enough support for hiking)
1 raincoat or poncho
Bedding & Towels
1 sleeping bag (medium weight)
1 extra blanket – to cover your sleeping bag on cool or foggy nights
1 twin sheet for mattress cover (some prefer, some not)
1 pillow
2 pillowcases
1 laundry bag, washable, light color, with full name on bag in permanent link
1 washcloth
2 bath towels, 1 beach towel
Toiletries
1 comb or hairbrush
1 toothbrush & toothpaste
1 sunscreen (camp will provide, but if you have one you like feel free to pack)
1 body wash or soap (in box)
1 shampoo & conditioner
feminine hygiene products (biodegradable, please)
Optional
musical instrument (we'll have many at camp but if you'd like your own)
1 barn dance outfit
1 light bathrobe if you would like something more substantial than a towel for the walk between tent and shower.
1 small personal mirror
mosquito net (option to hook onto crossbar of tent)
Other
1 water bottle with screw top lid that can hold at least 32 oz.
1 backpack or daypack
1 flashlight/headlamp and extra batteries
3 hats with brim – you will be out in the sun all day, this is a requirement.
4 N-95 or cloth masks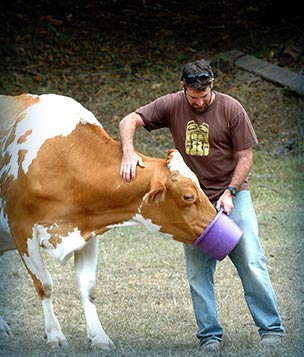 PLEASE NOTE:
If you are someone who is particularly susceptible to mosquito bites then please take appropriate prevention steps.
Thick jeans for night time (they will bite through yoga pants)
A good insect repellent
If an extreme case, a mosquito net that can surround your bed at night.
Clothing FAQ's
Footwear
Sneakers – A comfortable everyday general purpose shoe.
Hiking Boots – Hiking boots (with ankle support) are the darlings of camp footwear. They can be used while working with the large animals (we require some kind of leather top shoe), on hikes, and if water repellent can save you from soggy feet on wet days.
Sandals – For shower or days off only- We do not allow sandals or any open-toed shoes to be worn at camp other than to and from the showers. This includes flip-flops, Tevas, Chacos or any other variation. This is to keep your feet safe from injury as well as infection. You will be on a working animal farm and there is a lot of animal excrement (poo).
Biodegradable Feminine Products: Most tampons/ pads are made with a blend of cotton and rayon, and some tampons are covered with an "overwrap" that consists of a man-made fabric and contain a slew of chemicals. The applicators are made from plastic or cardboard, both of which end up clogging sewer systems and landfills. Because we use pit toilets it is essential that we use something that is biodegradable and compostable. Brands such as "Natracare" is sold on both Amazon and other online sources as well as at most health food groceries. It's also much better for your health, Win-Win!
Getting your things to camp: We know it can be arduous to travel with such volume, especially when flying. We do allow our staff to send some of their things in may, to camp prior to arrival. That being said it is requested that they don't show up too far in advance to the start of staff training.
Beauty supplies & Electric hair tools: Staff members are welcome to bring whatever quantity of beauty supplies they desire but we do caution against it. Aside from days off, there will be no time or place for you to use your hair straightener or dryer. Large quantities of makeup tend to go unused as well.
Two vs One-Piece swimsuit: This might be the most commonly asked question that we get. Gals you're welcome to wear a two-piece suit if you would like. We do ask that it has full coverage (no brazilian style bottoms please) as you will be around children while jumping and moving. Simply use your best judgment as to what you think would be appropriate swimwear. You may also want one for the lake and one for the pool as the lake can definitely stain your suit.